Legendary country singer Glen Travis Campbell has passed away after a long battle with Alzheimer's.
Glen Campbell released more than 70 albums over a 50-year career, and had a series of hits in the '60s and '70s including "Gentle on My Mind," "Wichita Lineman," "Galveston," "Country Boy" and his best-selling single, "Rhinestone Cowboy." Glen made history in 1967 by winning 4 Grammys in the country and pop categories, and took home CMA's Entertainer of the Year award in 1968.
Campbell was also an actor and TV host who starred in the variety show, "The Glen Campbell Goodtime Hour" on CBS from 1969-1972. His 2014 documentary "I'll Be Me" documented Glen's farewell tour and struggle with his Alzheimer's diagnosis.
Mr. Campbell released his final studio album, "Adiós," in June. The album, which included guest appearances by Willie Nelson, Vince Gill and three of Mr. Campbell's children, was recorded after his farewell tour.
He's survived by his wife, Kim Campbell, and 8 children. Kim's scheduled to speak at The Alzheimer's Alliance of Smith County luncheon in Tyler, Texas in November about the challenges faced by people living with the disease and their families.
Glen Was 81….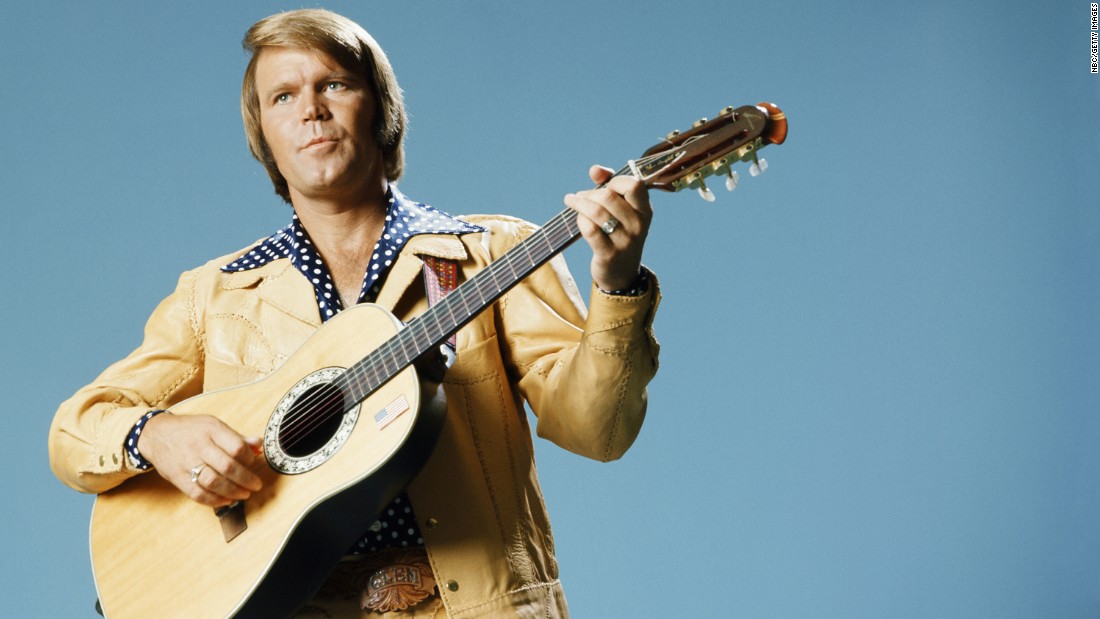 Fellow artists and friends react to the passing of Glen Campbell:
"Well Glen Campbell was special because he was so gifted. Glen is one of the greatest voices that ever was in the business, and he was one of the greatest musicians. He was a wonderful session musician as well. A lot of people don't realize that, but he could play anything. And he could play it really well. So he was just extremely talented. I will always love you, Glen!" – Dolly Parton
"Glen Campbell is such an incredible talent. Glen Campbell filled a niche in American music that very few people have ever reached. He was considered both pop and country, and not just one record or one little phase in his career, but years and years and years of his career. He represented the best of the pop and the best of country, and he went that kind of middle ground. He pulled people in from both sides. It was a great thing for country music, and frankly, for pop music. He was an incredibly talented guitar player. A lot of people have heard Glen Campbell's brand that don't even realize it. He was a studio musician in Los Angles for a lot of years and he did a lot of work for a lot of artist we're very familiar with. He had a great, God-given talent. We've seen him host television shows, he plays great guitar, he sings great and he entertains. Glen Campbell was one of the most unique people that has come along in the music business in my lifetime." – Charlie Daniels
"It's always tragic when you hear of a friend passing, but he had to be miserable that last few years of his life. At least he doesn't have to deal with that anymore. We worked together a lot through the years. In fact, Glen played on almost all First Edition music. He played a dynamic riff on the guitar that was trend setting. I also shot a few of his album covers back in the day and, at the time, I never knew people were paid to do that, but a few weeks later I received a check in the mail that was unexpected and highly received. I'll never forget that. He was a good friend and it breaks my heart that he's not here to contribute to music anymore." – Kenny Rogers
"When I first came to Nashville, Tennessee to join the Oak Ridge Boys in 1973, I wasn't with the group two weeks before Duane Allen took me to the CMA Awards, my first ever. I rented a tuxedo that looked like a high school prom tuxedo—horrible. That was the best I could do at the time. Glen Campbell came out and sang 'By the Time I Get To Phoenix,' and sat on the edge of the stage and sang it. I loved Glen Campbell. I had all of his records up to that point. I could not believe that I was sitting in the Opry House, actually watching Glen Campbell sing. Over the years, we became very good friends." – Joe Bonsall (The Oak Ridge Boys)  https://youtu.be/Atser1xiUck
"I think probably, the sweetest time I had with Glen Campbell is when I would be with him, pitching songs to each other. Glen Campbell was one of the great song men I've ever met in my life. Glen taught me so much about the importance of finding great songs. When we worked together, which was many times, like in Branson, when we opened up the Palace Theatre. We opened it up together. We would wind up on our bus, playing songs until one night we played so long that he just fell asleep. He just didn't want to give it up, and he would wake up at the end of the song and say 'Play another one.' I'd say, 'don't you think we need to go to sleep?' He'd say 'Yeah, but I'd just love to hear these new songs.' We would just keep playing song. One time we were out in the Sparks, Nevada working with Mel Tillis and he said 'Glen called and he wants us to come over to Tahoe and play some songs.' So we got in Mel's plane and flew to Tahoe, and we played songs at Glen's place, just played songs for each other for about two hours until we were horse. Then we flew back to Sparks, did our shows and Glen did his at Lake Tahoe. Short time ago I went to visit Glen at the home where he was staying and handed him a guitar. He picked it up and strummed it a little bit, gave me a big smile, and it was hard to see a man who looked really healthy, looked really good, still smiled real big, but not be able to communicate like he once did. But I have so many memories of him. And I pray that someday, we'll find a cure or treatment for Alzheimer's and those people who need help and that's my one prayer." – Duane Allen (The Oak Ridge Boys)  https://youtu.be/Atser1xiUck
"Glen Campbell was such a huge influence on me. Growing up, I studied his writing, songs and how he was an 'entertainer's entertainer.' Along with Johnny Cash, Dolly Parton and Porter Wagoner, Glen Campbell was one of the first to parlay country music into mainstream television and broaden the entire country music fan base across the globe. Ride on Rhinestone Cowboy. God Bless." – Billy Ray Cyrus
"As a musician, he was a hero. As an Arkansan, he was a hero. RIP Glen." – Justin Moore
"Sorry to hear about my good friend Glen. The loss is too big to put into words. He was an incredible voice, incredible musician, incredible friend, movie star and recording artist. We had so much fun together, and sort of grew up together in our music and our careers. There were so many memories that only he and I shared. Glen and I were brothers in every sense of the word. When I hear or see his name, I see the Glen I've always known. There will never, ever be another Glen Campbell." – Roy Clark
"I knew Glen for more than 50 years. We met on the set of a TV show in Toronto in 1964, and like everybody else in our business, I was a huge fan. One of my treasured memories is the day Glen and I sat together, just the two of us and his guitar, and recorded a "Bill Anderson Visits with the Legends" radio show for XM satellite radio. We laughed, sang and visited like two neighbors across a picket fence. I'll remember it forever." – Bill Anderson
"It's sad to hear of the passing of yet another great musical genius. His music will live on! Some of the greatest country songs ever to be written or sung. My thoughts and prayers go out to the Campbell family in their time of sorrow and loss." – KC of KC and the Sunshine Band
"I had the pleasure of inducting Glen into the Country Music Hall of Fame. He could write it, sing it and play it. He was a triple threat. He never forgot his friends and made room for them on any project could. He was one of the finest musicians I've ever known and certainly the prowess of his entertainment legacy goes without saying that. He was our golden boy. We loved him and the world loved him." – Brenda Lee
"I don't think there is any doubt that under the circumstances of his health the past several years, his passing was inevitable. But that doesn't take away from it and the fact that he was one of the greatest in the business. Vocally and instrumentally there was no one like him and the music business is a better place because of him. I will always cherish the fact that he played on many of my recordings in the 60s. I was proud to know him and to work with him. We sure will miss him." – Leroy Van Dyke
"I grew up loving Glen Campbell and am so sad to see him go. The greatest all around talent ever in country music." – John Rich of Big and Rich
"I'm sad to learn of the passing of one of my heroes and friends, Glen Campbell. I loved his singing and guitar playing but I really admired him for his down to earth and friendly personality. I spent only a week working with him in Branson and he made us all feel like old friends. Rest In Peace old buddy." – Mark Chesnutt
"I did my grieving for Glen when I first heard he was diagnosed with Alzheimer's because I knew we had lost the gift of his talent and his friendship. I'm glad he is not suffering any longer and I hope he is now at peace." – Jeannie Seely
"Glen Campbell touched so many lives during his time on this earth! He sang one of my all time favorite songs, Rhinestone Cowboy. He was such a talented singer, songwriter and actor. Today country music has lost yet another great and legend. May God watch over his family and fans through these tough times ahead. Rest in peace the one and only Glen Campbell!" – Shane Owens
"We lost another one of my heroes. One of the greatest singers, songwriters and musicians. He had it all. We are going to miss him dearly." – Moe Bandy
"I was, am and always will be a Glen Campbell fan." – Ronnie McDowell
"My hero… My Friend… Glen Campbell, is gone. My heart is heavy… A lot of memories…the end to a beautiful era in music. His incredible legacy is what we have now. Thank you, my friend, for always treating me as an equal, though clearly I am not. May God comfort your sweet family, and welcome you into His presence. The Heavenly Band, just got way better. I love you, Glen. Happy Trails." – Collin Raye
"Glen Campbell inspired millions with his TV show, including me. 'Gentle on My Mind' and 'Wichita Lineman' were in my repertoire before I ever started making records. He was also a fixture in Clovis, NM where Buddy Holly made his mark. Millions followed him and millions will miss him." – Gary Morris
"There's never been a better musician or a greater artist than Glen Campbell. I admired him and respected his talent." – Lee Greenwood
"Glen Campbell brought a little more sophistication and class to country music. He not only entertained country fans, but his crossover success in the pop genre made him a true pioneer of his time. He had a huge hand in growing and expanding country music and that's all any of us could hope to someday do." –Frank Foster
"Even though Glen has been sick for a while, the news of his death is still very shocking to us. With all the live shows we did together, we just used to always stay around and watch his shows because of the songs and his beautiful voice. We will miss Glen dearly." – David Bellamy of the Bellamy Brothers
"There are only so many artists that you can truly call icons. Glen Campbell was surely one of the brightest of those. His class, amazing vocal style, instrumental prowess and authenticity made him one of the best of all time. He will be deeply missed but his music will live on with us forever!" – Tim Rushlow
"Glen Campbell was a living legend. He was not only one of my favorite singer/musicians, but also helped create some of my favorite sounding music from other genres. He was part of The Beach Boys sound (the wrecking crew!) He created some of the main songs that still grace my playlist daily. His family will be in my prayers." – Mark Wills
"Glen Campbell was a generational talent whose multiple gifts transcends genres while simultaneously defining them. His music also helped define my childhood. He's a big part of popular music history, and we're all lucky as hell for that…May he rest well… There will never be another like him." – Ray Scott
"What a great loss for Country Music and the world. Glen Campbell was one of the all-time greats as a singer, musician and entertainer, as well as a TV host and actor. He did it all and remained a down-home, salt of the earth man. He was a true gentleman who was always quick to say hello as if he was your neighbor. He was able to rise above all formats, as he hit the top of the charts in country and pop/rock virtually side by side. A remarkable feat by a most remarkable man." – Gene Watson
"I'm so sad hearing the news of Glen's death today. As a kid, I was a big fan of 'Glen Campbell's Goodtime Hour' television show. 'Wichita Lineman,' and 'By the Time I Get to Phoenix' are two of my favorites and are absolute masterpieces. The depth of his talent and the ease with which he sang and played guitar was mesmerizing to watch! Flawless! You are loved Glen! My heart goes out to his family and friends." – Sylvia
"This is so sad. One of my proudest moments with Glen was when he borrowed my guitar for a TV Taping in Nashville. He is a respected talent. He was a great artist…I recently recorded one of his hit songs 'Try a Little Kindness so I take a little bit of Glen with me everywhere I go." – Janie Fricke
"I loved him and I am happy he is in a better place. My memories with Glen go back to my early teens. My dad brought home a Glen Campbell album, and from that time on I loved Glen Campbell. I was a huge fan. I was always in awe of him and he was one of the most talented people I have ever known. When I joined Statler Brothers in the early 80s I got to be on the 'Glen Campbell Goodtime Hour' with Jerry Reed and I could not believe it. He was always so nice and I admired the man and his talent. I will get to pay a small tribute to Glen with the song of his 'Southern Nights,' which I did on my latest album. What a loss. His presence will forever be missed." – Jimmy Fortune
"I did many shows with Brother Glen. He was always a sweetheart, gentleman and good friend. I will greatly miss him. God bless his family." – T. Graham Brown
"Our Business takes a long time to recover from the loss of a giant star like Glen Campbell. I'm sure the night sky will for sure be brighter now that he has ascended home to our heavenly Father. His music inspired not only me, but many generations." – T.G. Sheppard
"It's so sad to see another icon taken from us. He influenced so many musicians and artists. His music will live on forever." – Olivia Lane
"Glen Campbell is a hero to me because not only was he a phenomenal guitar player, but because he had that style and swagger about him. He was the bling man, come on! Rhinestone cowboy, live forever." – Craig Wayne Boyd
"Rest In Peace one of our musical heroes, Glen Campbell – a true genius. What a musical legacy you left us!" – EXILE
138 total views, 0 views today